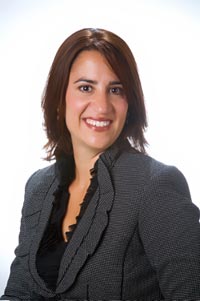 The newest member of our team, Megan L. Faust, began recruiting for our agency in late 2010. Megan's introduction to recruiting began in 1999 when, as a candidate of our agency, she was placed by Dianne McClelland at a boutique firm in Pittsburgh, where she remained for eleven years. In her many years of practicing law, Megan obtained a good command of the legal market and built strong relationships, both of which have been keys to her success in the field of legal recruiting. She is detail oriented, attentive, trustworthy and proactive, all of which make her attractive to both candidates and clients. To date, Megan has placed attorneys in Pittsburgh, Ohio and a number of other states.
Megan graduated from Washington & Jefferson College in 1994 with a Bachelor of Arts degree in Business Administration and a concentration in economics. While in college, Megan was a member of the Delta Gamma fraternity and the Pre-Law Society. At the time of graduation, Megan was named a Walter Hudson Baker Scholar in economics for outstanding achievement in the economics department. Upon graduation, Megan attended the Dickinson School of Law, now The Pennsylvania State University at the Dickinson School of Law, in Carlisle, Pennsylvania.
Following graduation from law school in 1997, Megan began practicing in the area of insurance defense, litigating cases throughout western Pennsylvania. In 1999, Megan began an eleven year career at a nationally renowned class action boutique based in Pittsburgh. Nearly two years ago, Megan decided to make a career change and began working as a legal recruiter for Fletcher & McClelland Legal Search assisting law firms in finding qualified candidates to join their teams.
Megan is a member of the National Association of Legal Search Consultants (NALSC), a professional organization committed to the highest standard of ethics in the field of legal recruitment. She also maintains her license to practice law in the Commonwealth of Pennsylvania and is a member of the Allegheny County Bar Association, The Women in the Law Division of the ACBA, and the Washington County Bar Association.
As a lifelong Washington County resident, Megan has focused much of her time and attention on Washington County based non-profit organizations. Megan is a former Board President and deacon of the Fairhill Manor Christian Church. She also served on the Board of Directors of the Brownson House and the CARE Center. Currently, Megan acts as the President of the Board of Directors of the Literacy Council of Southwestern Pennsylvania. Last year, she joined the Heart Ball Committee for the Washington/Mon Valley Heart Ball, and, recently, she joined the Board of Directors of the Washington County Chapter of the Heart Association. Megan actively supports the Olivia Scott Foundation and The Friends of the Brownson House.
Megan currently resides in North Strabane Township with her husband, Jack B. Piatt III, and their daughter Margo Helene (10) and son, Jackson Brady (3). Megan enjoys working out at the Wilfred R. Cameron Wellness Center, supporting the Pittsburgh Steelers, attending concerts and traveling with her family.
megan@mcclellandlegalsearch.com